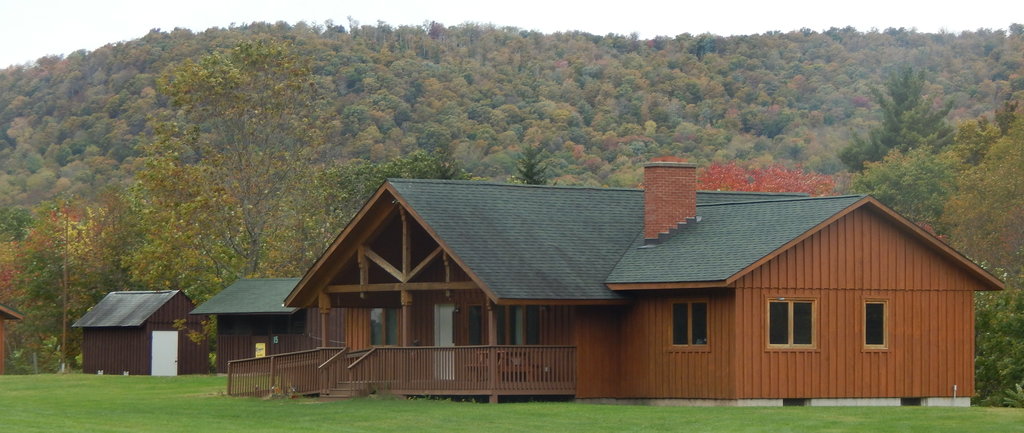 Camp Shankitunk's rental season begins May 1st and ends September 30th, but is NOT available while Camp is in session. Dates . . .
Our rental season is a busy time, please contact the Camp Office for availability or to arrange a rental.
Facilities:  Use of facilities requires a base fee and some additional charges per facility to be used:
Rice Hall
Ford Hall Overnight
Ford Hall Meeting Room included in base fee upon request.
Cabins
Gladstone Science Building
Clarke Craft Hall
Director's House
Pool - Lifeguards are required to use the pool (see note #1 below). Two lifeguards are required for the first 25 swimmers. An additional lifeguard is required for every 25 additional swimmers. Cost includes use of the swimming pool for up to 4 hours.
Ropes Course - Facilitators are required to use the Ropes Course (see note #1 below).  A maximum of 15 people may participate at one time.  Cost includes use of course for up to 4 hours. 
Archery Range - Instructors are required to use the Range. (see note #1 below) A maximum of 20 people (10 pairs) may participate on the range at one time.  Cost includes use of range for up to 4 hours.
NOTE # 1 - Lifeguards, Ropes facilitators, and Archery instructors are not included but can be arranged upon request for an additional $25.00 per hour.  Groups may choose to provide their own lifeguards, facilitators, or instructors ONLY IF they meet New York State Department of Health requirements for the activity.  All facilitators/instructors not on our list of approved facilitators/instructors must submit their certifications for examination prior to arrival. This policy is for the safety of everyone utilizing Camp facilities. Thank you for your understanding.
NOTE # 2  The staff of Camp Shankitunk try to make your stay as enjoyable as possible. Most of our camp maintenance and construction is done off season. We reserve the right however to do maintenance and construction as needed.
Please Contact Us to discuss date availability, pricing, or any questions you have.  Thank you.