Camp Dates 2017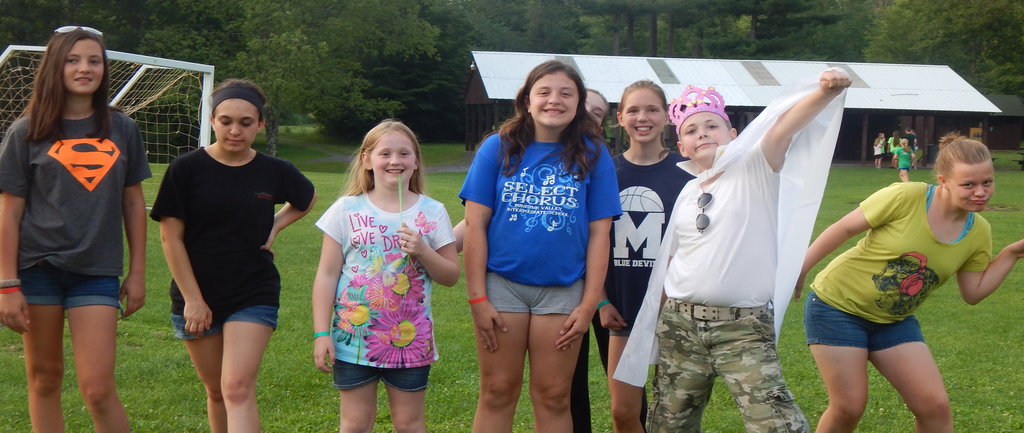 All five weeks of camp are co-educational. Overnight campers should register between 2:00 and 4:00 pm on Sunday. Day Campers register between 8:00 and 9:00  am on Monday and then check-in at 8:30am Tuesday-Friday. Day Campers need to be picked up by 4:30pm daily.  Overnight camper parents are encouraged to attend the Friday afternoon closing ceremony, beginning at 5:00 pm. Overnight campers may be signed out from their cabin following that closing ceremony.  Overnight campers must be picked up by 6:00 pm.
Week 1 -July 2 - July 7, Sunday-Friday - Star Wars Week; DAYCAMP: July 3-July 7  
May the force be with you as you board the millennium falcon and have an adventure at Shankitunk! Whether you side with Jedi or the Emperor, everyone is welcome this week for some star wars fun!
Week 2 - July 9 - July 14, Sunday-Friday - Wild West Week;  DAYCAMP: July 10-July 14  
Howdy campers!  Grab your saddlebags, and hit the trail with us at camp for a week of cowboy fun!  Show off your roping skills, rustle up some grub, and enjoy crackling campfires when days are done. 
Week 3 - July 16 - July 21, Sunday-Friday - Music Madness Week; DAYCAMP: July 17-July 21;
 Music will be all around us this week at camp; from peeping frogs and crickets to rec time drum circles and song wars.  Bring your singing skills, an instrument if you play, or just enjoy the music over the camp PA.
Week 4 - July 23 - July 28, Sunday-Friday - Greek Week; DAYCAMP: July 29-July 28
Don your toga, and get ready to take a trip back in time to the era of the gladiators!  We won't make you wash your feet before dinner, but go ahead and make a leaf crown, compete in the Camp Olympics, explore mythology, and more!  
Week 5 - July 30- August 4, Sunday-Friday - Under the Sea Week; DAYCAMP: Juy 31-August 4
The seaweed is greener at Shankitunk!  Swim in the pool, play in the volleyball court sand, go fishing, or explore underwater worlds through a microscope in nature class!  Bring your best fish faces and be ready to get wet!
PLEASE NOTE: Campers are not allowed to stay over the weekends.  The camping experience for children from week to week at Camp Shankitunk is very similair.  The weekly themes are more of a fun way to mix things up over the summer for campers attending multiple weeks and for the staff, but they don't significantly impact the Shankitunk experience.  Happy camping!