Camp Dates 2018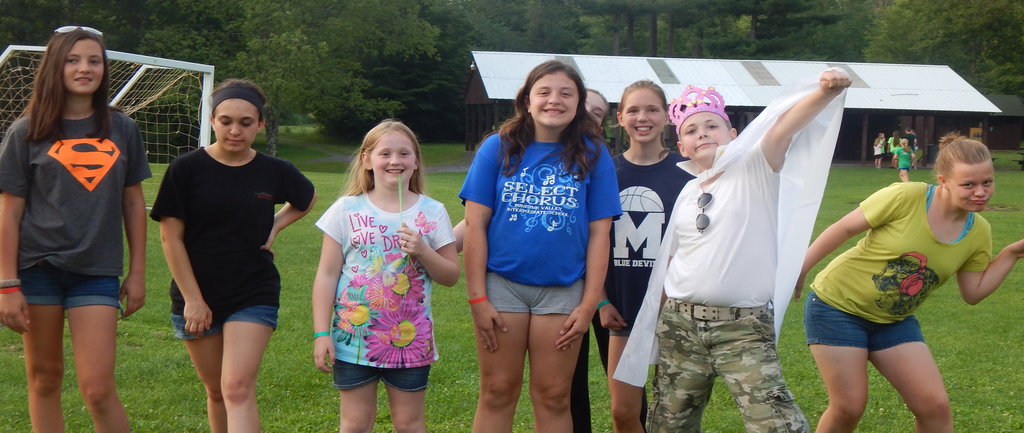 All five weeks of camp are co-educational. Overnight campers should register between 2:00 and 4:00 pm on Sunday. Day Campers register between 8:00 and 9:00  am on Monday and then check-in at 8:30am Tuesday-Friday. Day Campers need to be picked up by 4:30pm daily.  Overnight camper parents are encouraged to attend the Friday afternoon closing ceremony, beginning at 5:00 pm. Overnight campers may be signed out from their cabin following that closing ceremony.  Overnight campers must be picked up by 6:00 pm.
Week 1 -July 1 - July 6, Sunday-Friday - Magic Week; DAYCAMP: July 2 - July 6  
Calling all wizards and planeswalkers! Whether you prefer blue, green, or red, this is the week for you. Join us at Shankitunk for duels and a gathering for good clean magical fun. Don't know how to play? You can learn? Love to play? Put your strategy to the test.
Week 2 - July 8 - July 13, Sunday-Friday - Mountaineers Week;  DAYCAMP: July 9 - July 13  
You won't be scaling cliffs, but this is a great week to enjoy the outdoors. Hike Lennox Forest, work together in team challenge, capture the beauty of nature, identify plants, look for tracks, and much more this week. Make sure to pack your sense of adventure! 
Week 3 - July 15 - July 20, Sunday-Friday - Footloose Week; DAYCAMP: July 16 - July 20;
 We're cutting footloose! We will sing and dance the week away. Show us your best moves - shopping cart, sprinkler, lawn mower, or make up your own. Anything from random dance parties in the field to the Electric Slide and more. Come shake it with us at Shankitunk!
Week 4 - July 22 - July 27, Sunday-Friday - Superhero Week; DAYCAMP: July 23 - July 27
Do you know what Peter Parker does for a living? He's a web designer! Haha! We're sure you'll have great jokes, costumes, facts, powers, and stories to share this week. Whether you prefer Batman, Wonder woman, Aqua man or the Joker, everyone is welcome.  
Week 5 - July 29- August 3, Sunday-Friday - Masquerade Week; DAYCAMP: Juy 30 - August 3
Let's get theatrical. Don your feather boas and masks to join us for a week of mystery and performance at Camp. We will be making masks, solving riddles, planning skits, playing charades, and more. It will be a suspenseful but fun week at Camp.
PLEASE NOTE: Campers are not allowed to stay over the weekends.  The camping experience for children from week to week at Camp Shankitunk is very similair.  The weekly themes are more of a fun way to mix things up over the summer for campers attending multiple weeks and for the staff, but they don't significantly impact the Shankitunk experience.  Happy camping!